Quentin Quirk's Magic Works
Jez and his best friend Charlie discover Quentin Quirk's Magic Works, a strange little magic shop, down a forbidden street. Its bad-tempered, ancient owner Mr Quirk sells various magical concoctions to the boys – with disastrous and crazy consequences.
Then, with Mr Quirk's grudging help, Jez and Charlie have to take hair-raising action to avert deadly danger. These books will have you rolling around with laughter, on the edge of your seat with suspense and cringing with revulsion, possibly all at the same time!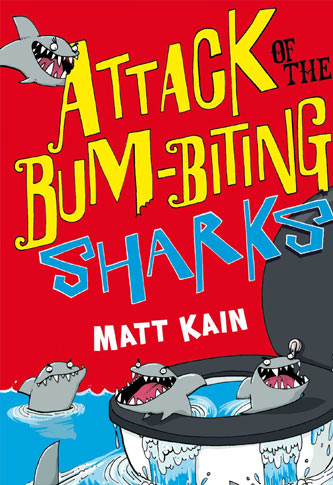 Attack of the Bum-Biting Sharks
Jez's big sister is extreeeeeeemely annoying, so he and Charlie plan revenge – with help from local magic-maker Quentin Quirk. Prepare for something snappy, toothy and a big menace to your botty!
The Purple Sluggy Worry Warts
Jez and Charlie will do ANYTHING to beat Jez's annoying sister in the local talent contest. But will Quentin Quirk's magic Trickles and slurping, slimy, sluggy Worry Warts give them the X factor?