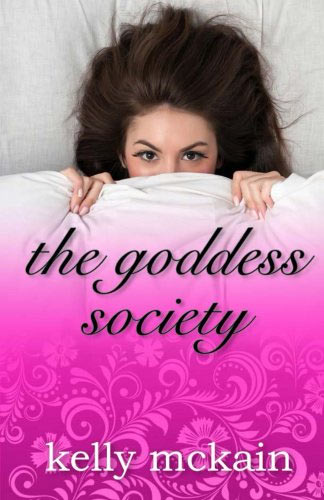 Warning!  Teens only!
When Jen, Lia and Shelley form a society to lose their virginity they each expect their first time to be perfect. But there are a few teeny problems. Friends, parents, kid brothers and drag queens all cause chaos – not to mention the boys themselves!
A note from Kelly:
Hi girls! I'm really excited to have this  e-book and paperback of The Goddess Society. It was one of the first books I dreamt up, and I loved writing about best friends Jen, Shelley and Lia. I'm delighted that you can now read their story as an e-book, too, and I hope you like the new cover look (which I came up with myself, so I'm extra-specially thrilled about it!). If you've enjoyed the Rainbow Beauty or Totally Lucy books in the last few years and are now looking for something for young adult readers, you will probably love this book. It's got laughs, tears, friendship and romance… AND it is a little bit sexy, so make sure you really feel old enough to read it. If you're not sure, ask your mum to check it out first, or have a read of the opening pages for free on Amazon. Happy reading, girls, and may I just take this chance, from the bottom of my heart, to wish you all the happiness, peace and wellbeing in the world.
Visit The Goddess Society website.